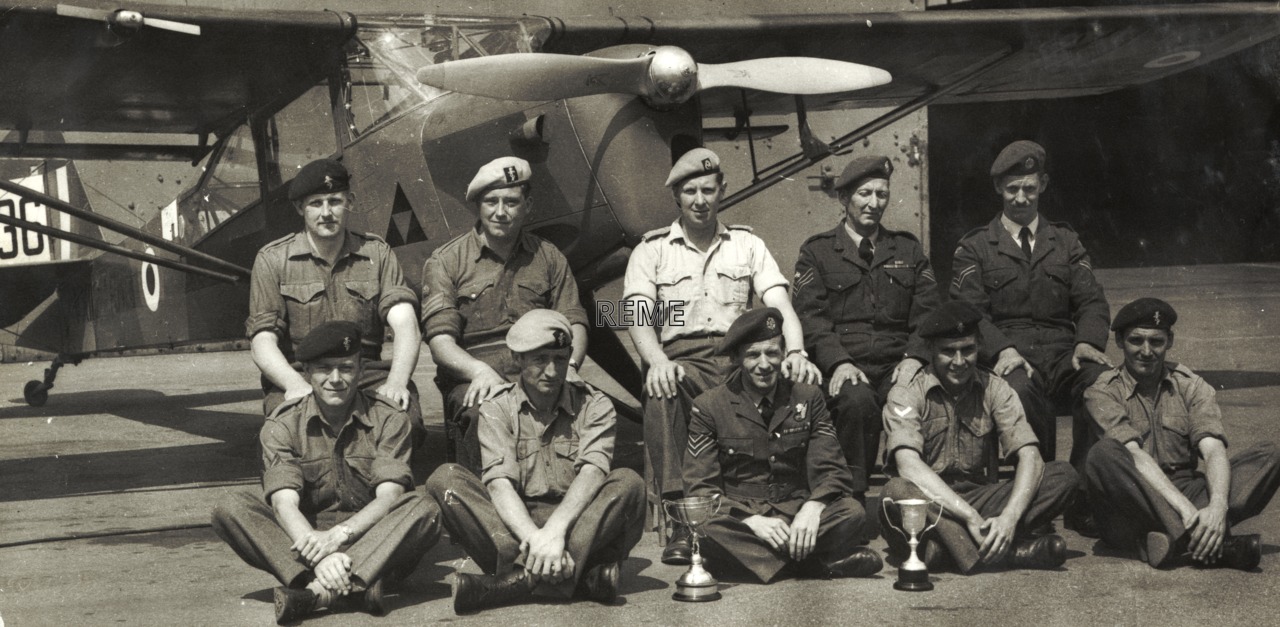 651 Light Aircraft Squadron Workshop, REME, Team for the King's Cup Air Race 1959
Group photograph of the workshop team, with their Auster VI, which placed fifth in the race and won the Orsam Trophy for the maximum points obtained in the intermediate heats, as well as the National Air Racing Trophy. The aircraft was prepared in the field while on annual camp at Rollestone, near Salisbury.
Back row, Left to Right: Sergeant (Sgt) E Rix, Staff Sergeant (SSgt) J Tulip, Captain (Capt) NT Baldwick Royal Army Service Corps (RASC), pilot, Flight Sergeant (Ft Sgt) A Patient and Corporal (Cpl) A Bell.
Front row, Left to Right: Cpl J Ainger, Lance Corporal (LCpl) H Robbins, Sgt R Marsden, LCpl R Jones and Craftsman (Cfn) J Thompson.
September 1959
From the album: 'REME in the UK, Vol I' compiled by the REME Museum. A relevant article was published in The Craftsman magazine, October 1959 issue, p.259.
Buy This Print
Size
Price (inc VAT)
Shipping UK
(6"x4" & 10"x8" £2.50)
(Other £3.99)
Worldwide
(£5.99)
6"x4"
£8.75
10"x8"
£15.50
16"x12"
£25.00
20"x16"
£31.25