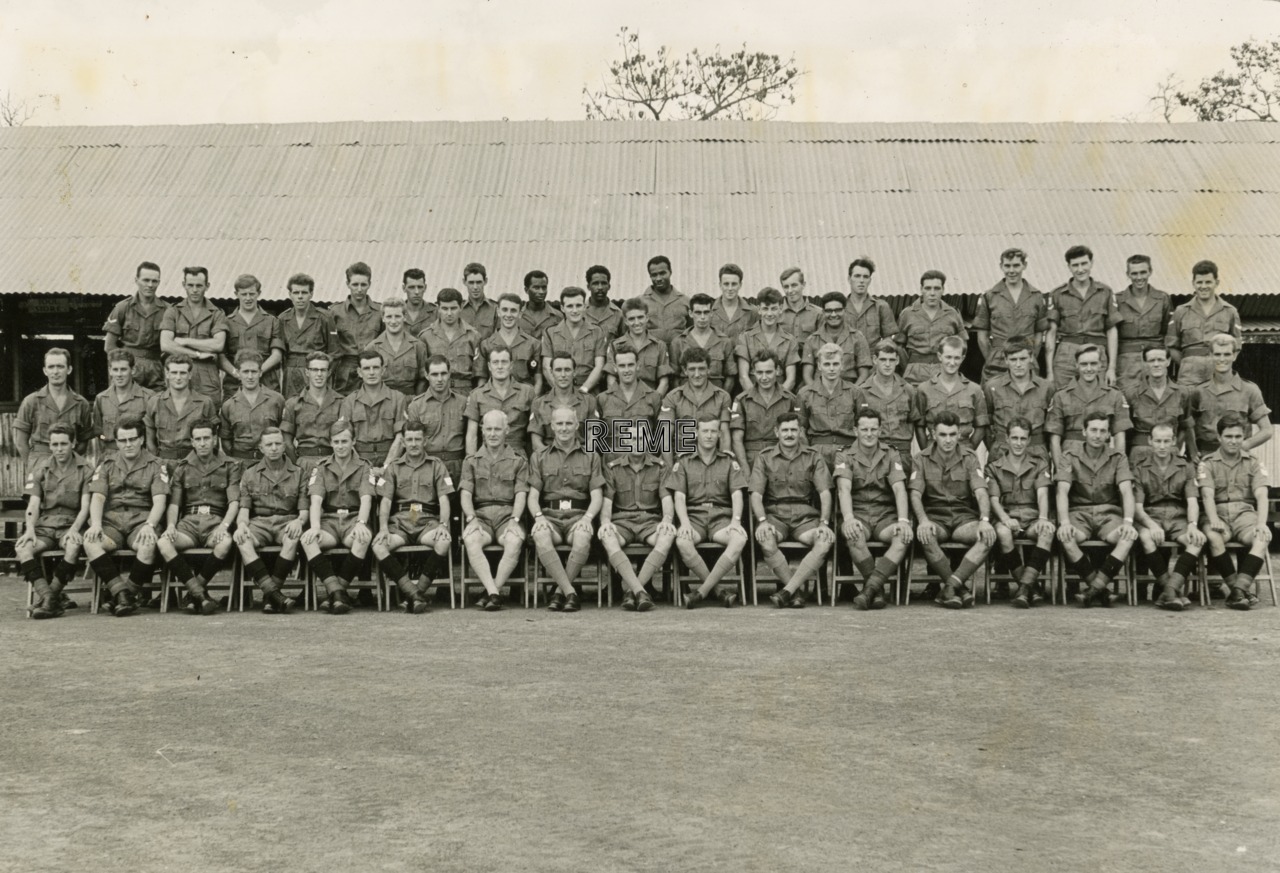 CRE Workshop REME (Operation CROWN), Thailand, July 1965
Seated, left to right: Corporals (Cpl) Smith (REME) and Couch (REME); Sergeants (Sgt) Gaymer Derham (REME), Barber (Royal Army Ordance Corps RAOC), Perkins (REME) and Bamford (REME); Warrant Officer Second Class (WO2) Bradbury (RAOC); Warrant Officer First Class (WO1) Conductor (Cdr) Cooper (RAOC); Major N M Chisolm (REME); Captain P A Bloxham (REME); WO1 Mouzer (REME); Sgts Denby (Royal New Zealand Electrical and Mechanical Engineers RNZEME) and Johnstone (Royal New Zealand Engineers RNZE); Cpls Savage (Royal Engineers RE), Sloan (RAOC), Tennant (REME), and Prescott (REME).
1st row standing, left to right: Craftsman (Cfn) Whitney (REME); Sapper (Spr) Baker (RE); Private (Pte) Harvey (RAOC); Spr Rowlands (RE); Cfn Woods (REME); Cpl Durkin (REME); Cfn Troughton (REME) and Barfoot (REME); Cpl Newton (REME); Lance Corporals (LCpl) Steer (RE), Rex (RE), Brown (RE) and Batham (REME); Cfn Hay (REME), Brogan (REME), and Stokes (REME); LCpl Armitage (REME); Pte Sheridan (RAOC); and Cfn Bennett (REME).
2nd row, left to right: Cfn Burtoft (REME) and Baxter (REME); LCpl Heal (RE); Sprs Guerin (RE) and Wareham (RE); Pte Sullivan (RAOC); Cfn Totton (REME), and Junior Technician (J/T) Desmier (Royal Air Force RAF).
Back row, left to right: LCpl Wilson (REME); Pte Heal (RAOC); J/T Grimes (RAF); LCpl Corke; Cfn Laurence (RNZEME); LCpl Morrison (REME); Cfn Walker (RNZEME) and Vitalis (REME); LCpl Archer (RAOC); Pte Kelly (RAOC); Cfn Lawless (REME) and Thacker (REME); Leading Aircraftman (LAC) Cook (RAF); Cfn Hoolihan (REME); Cpl Hook (RE); and LCpls Simmonds (RAOC), Bovingdon (RAOC) and Jeffry (RAOC).
From the album 'Director of Electrical and Mechanical Engineers Far East Land Forces'.
July 1965
Buy This Print
Size
Price (inc VAT)
Shipping UK
(6"x4" & 10"x8" £2.50)
(Other £3.99)
Worldwide
(£5.99)
6"x4"
£8.75
10"x8"
£15.50
16"x12"
£25.00
20"x16"
£31.25