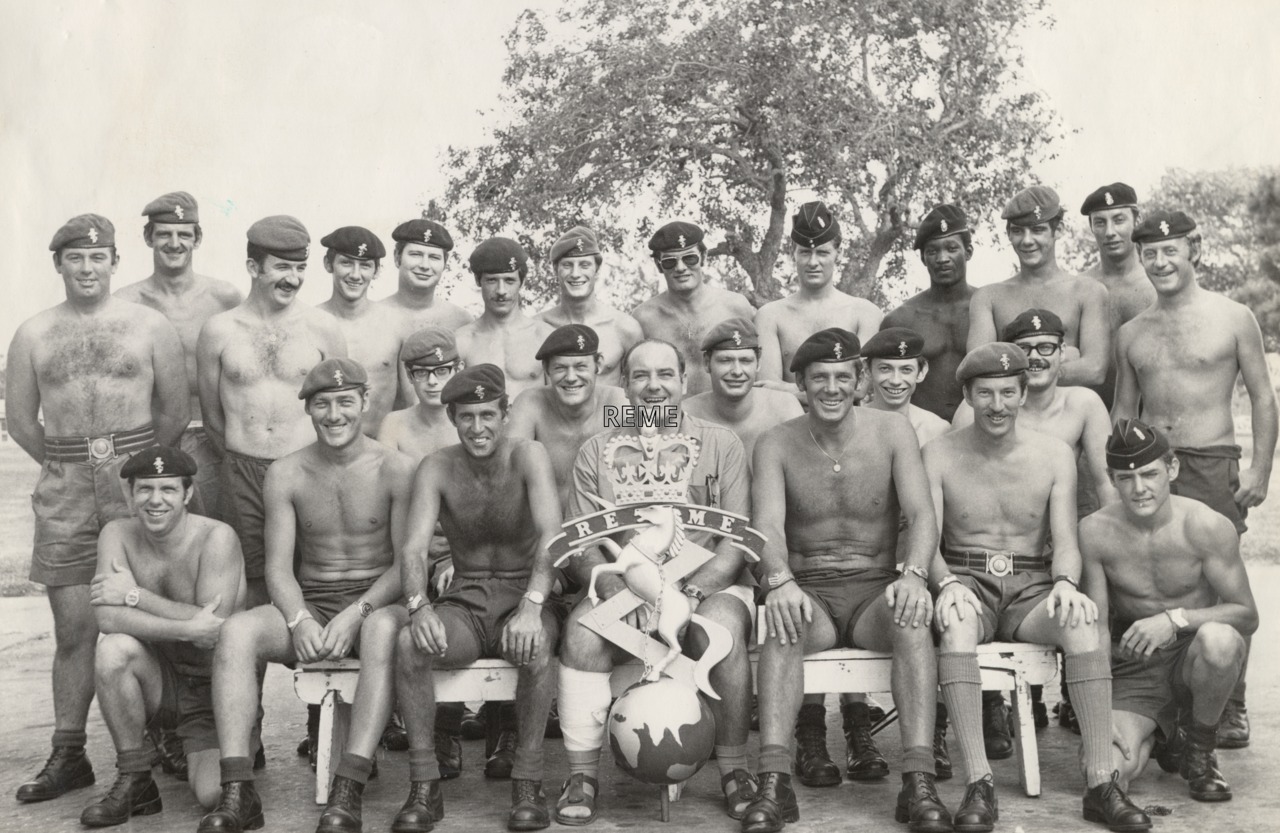 Force Workshop Belize 1975
Force Workshop Belize, known as 'The Swamp Rats', supporting British Forces in the Central American nation of Belize,  under ASM (Artificer Sergeant Major) Jack Findlay. Group photograph includes the members of the workshop supplemented by the resident battalion's attached REME tradesmen.
Standing, Left to Right: Sgts (Sergeants) Lynch and Small, L Cpl (Lance Corporal) Agnew, Cfn (Craftsmen): Sadler, Batchelor, Nelson, Humphries and Leach, L Cpl Langmaid (RAOC, Royal Army Ordnance Corps), Cpl (Corporal) Allen (RAOC), Cfn Duncan, Sgt Hancox (RAOC), Cfn Petrie.
Centre, Left to Right: L Sgt (Lance Sergeant) Johnston, Cpl Anderson, Cfn Jones, Cpl Fripp, L Cpl Hart.
Front Row, Left to Right: L Cpls Williams and Younger, S Sgt Golder, ASM Findlay, S Sgts Fuller and Webster, Cpl Vinicombe (RAOC)
1975
From the album 'Recovery Visits: USA, RCEME (Royal Canadian Electrical and Mechanical Engineers), RAEME (Royal Australian Electrical and Mechanical Engineers), NZEME (New Zealand Electrical and Mechanical Engineers), East African Command, WAEME (West African Electrical and Mechanical Engineers)'
Buy This Print
Size
Price (inc VAT)
Shipping UK
(6"x4" & 10"x8" £2.50)
(Other £3.99)
Worldwide
(£5.99)
6"x4"
£8.75
10"x8"
£15.50
16"x12"
£25.00
20"x16"
£31.25