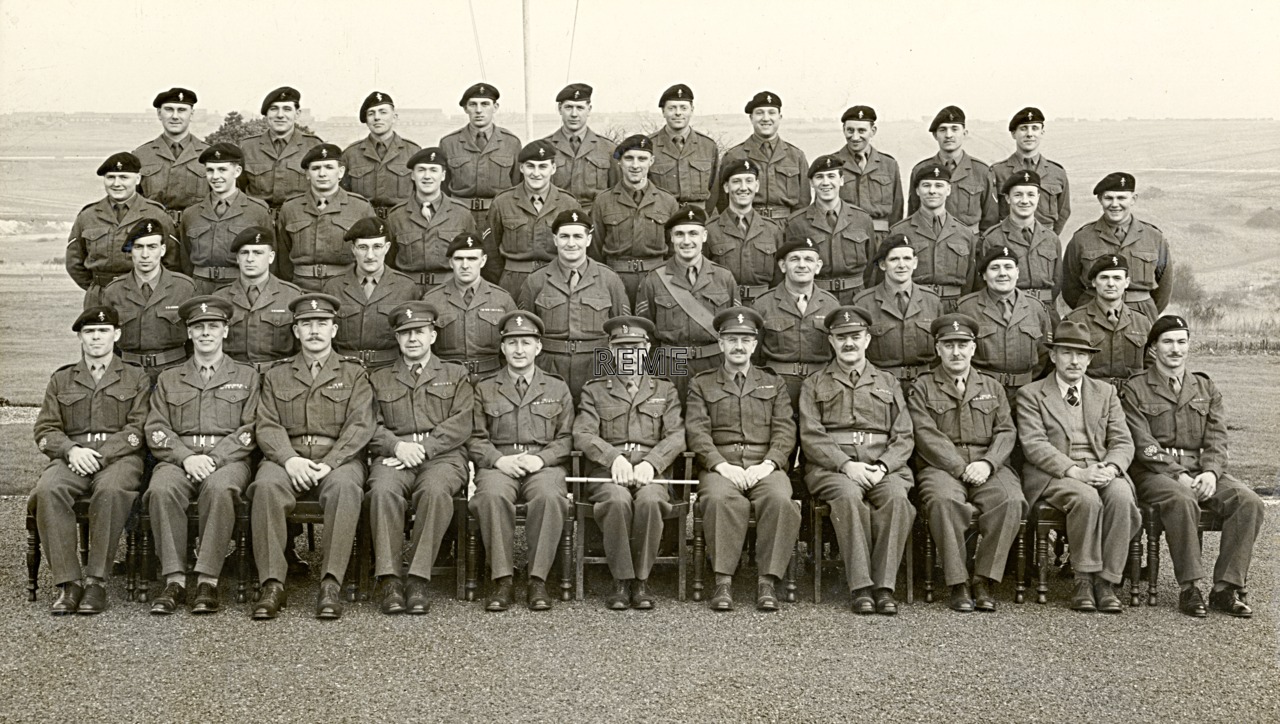 Headquarters Training Brigade REME, January 1956
Back row: Craftsman Giles, Private Goldsmith, Lance Corporal Stevens, Craftsman Mitchell, Lance Corporal Mepham, Craftsmen Sach and Ginty, Private Watt, Lance Corporal Hill, Craftsman Davie.
Third row: Lance Corporal Day, Private Roberts, Craftsmen Chaffe and Wood, Corporals Reading, Colquitt and Taylor, Private Clews, Lance Corporal Collison, Private Shepherd and Craftsman Baker.
Second row: Corporals Roe and Chambers, Sergeant Thurgood, Staff Sergeant McRae, Sergeants Clarke and Chimes, Staff Sergeant Scott, Sergeants Graham, Hosking and Greenwood.
Front row: Staff Quartermaster Sergeant (SQMS) Smith, Artificer Sergeant Major (ASM) Goodacre, Captain  N L Marks, Majors T Sergeant and R C Burrell, Brigadier J Orr CBE, Majors R J Illing and K G Rees, Captain F W Horscroft, Lieutenant Colonel H R Fraser (RO 111) and Artificer Quartermaster Sergeant (AQMS) Harrison.
(From the album 'REME Training Brigade')
January 1956
Buy This Print
Size
Price (inc VAT)
Shipping UK
(6"x4" & 10"x8" £2.50)
(Other £3.99)
Worldwide
(£5.99)
6"x4"
£8.75
10"x8"
£15.50
16"x12"
£25.00
20"x16"
£31.25