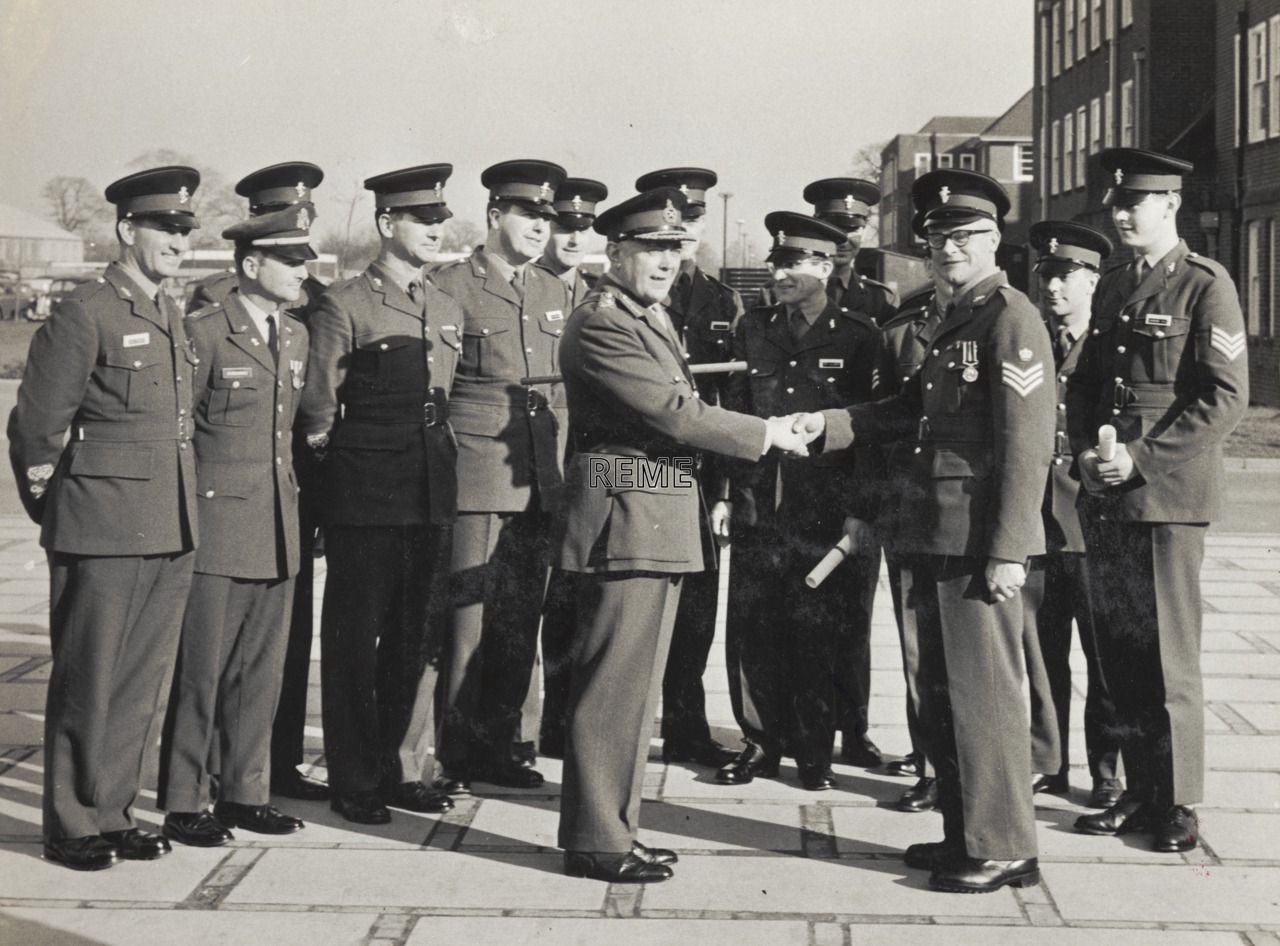 Presentation of awards to Warrant Officers and NCOs by the Director of Electrical and Mechanical Engineering (DEME), Arborfield, 1968.
The DEME seen congratulating Staff Sergeant (SSgt) Grimes on the award of the Meritorious Service Medal (MSM). Two Artificer Courses received Higher National Certificates (the first ever from a service school), two Long Service and Good Conduct (LS&GC) medals and the US Army Commendation Medal. The latter was presented to  Captain (Capt) RJ Charbonneau, United States.
Warrant Officers and Non-Commissioned Officers (NCOs), Left to Right: Warrant Officer Class 2 (WOII) J Porch, Capt R J Charbonneau, Staff Sergeant (SSgt) AFB Morrison, WOII R E Burbridge, SSgts: CA Wright and HJ Evans, Sgt LK Anderson, SSgts: AG Hathaway, J Fleetwood, WR Grimes and RK Barnett, and Sgts: JE Beaumont, SF Hutchinson and MC Dorward.
1968
From the album: 'REME in the UK, Vol I' compiled by the REME Museum
Buy This Print
Size
Price (inc VAT)
Shipping UK
(6"x4" & 10"x8" £2.50)
(Other £3.99)
Worldwide
(£5.99)
6"x4"
£8.75
10"x8"
£15.50
16"x12"
£25.00
20"x16"
£31.25